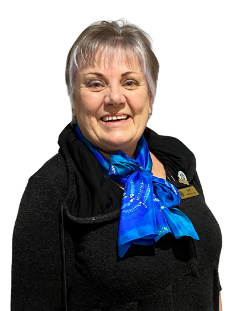 MOB:
+64 21 063 2995
dot@nztravelbrokers.co.nz
Find Me On Facebook


Join My Newsletter


Having started my travel selling in Sydney, Australia in 1973, I now have racked up 45 years of experience in the travel industry, and still love helping people to plan their special holidays.
I pride myself on attention to detail and have many repeat customers who have been with me for over 30 years.
My own passion is cruising and I have just completed a 22 day Mediterranean cruise on the "Queen Victoria".
I have cruised on most cruise lines, including an Expedition to the Southern Ocean visiting Campbell and the Auckland Islands.
A large part of my life is spent planning my next holiday, but I still have time to plan yours. Make an appointment and come and see what I can offer you.
Dot booked my first trip overseas. It was a nerve-racking experience for me as I was travelling alone and into areas where English wasn't the first language.

I had a fantastic time and Dot did not leave any detail out. She arranged taxis for me and hop on hop off bus tickets - I wouldn't know where to get them!

She ensured I was safe and had a wonderful experience which I did.

Roll on two years - sadly cancelling a second trip. Dot has answered all my queries and there's been a lot. We are still waiting on some refunds ( hopefully) but Dot has been excellent in all ways. I have recommended Dot many times to others and I will continue to. She manages every whim.

Give her a go she's worth it.

Helen
Being of a mature age, 70 plus I have always felt safe with the travel you have helped me book, you always found safe companies to meet me at airports etc and I cant say thanks enough.

This year I had to cancel my trip but that was no trouble for you to get the best result for me and I am pleased with them.

Hope I can get travelling in the near future and will call you when I need to get going thanks.

Heather
A massive thanks to Dot for getting me a major portion my airfare refunded.

Made my day!

This is the reason why you use an accredited travel agent.

Diana
I have access to a huge range of travel specials and deals.
I'm a one stop shop for all travel. Flights, cruises, tours, rental cars – I can book it all.
I'm your travel troubleshooter. If you run into the unexpected, call me. I'll get it sorted.
I'll come to you – I'm happy to meet you at a cafe or after hours to chat about your plans.
I'm a local business, not an anonymous website or company based halfway around the world.
If you have any travel plans, or if you'd like a quote, please get in touch – I'm happy to help!
NZ Travel Brokers Rookie of the year – 3rd Place (2019)
NZ Travel Brokers High Achievers Club (2019)
Adventure World – Top Seller (2018 & 2019)
CLIA Ambassador 2019
Level 3 National Certificate in Tourism and Travel Core Skills – January 2010

DotAnderson-Lee