MOB:
+64 21 127 5688
emma.farrell@nztravelbrokers.co.nz
Join My Newsletter


Having travelled to the UK, Ireland, Europe, America, Pacific Islands, Australia and Asia I am really excited and passionate about travel and I am always looking for the next best deal or location to head away and explore.
To travel is a luxury and the time and money required needs to be used and spent wisely for the objective of your trip, whether it is a family holiday, business trip, honeymoon or adventure expedition. I really enjoy exploring all options to make sure everything has been researched and you are getting the best options available for your specific travel plans. Being a Travel Broker I am available 24/7 to manage any new developments which may arise and have the flexibility to consult on travel arrangements outside normal office hours to fit in with busy lifestyles.
As a NZ Travel Broker I can offer you:
Competitive rates on flights, accommodation, rental cars, insurance and specials
Personal dedicated service
Flexible hours
The back up of a company of Travel Professionals with several years of experience and a wealth of invaluable knowledge
The assurance of being a member of a TAANZ Bonded Travel Agency
Air New Zealand Broker of the Year – Placed 2nd (2014)
I have access to a huge range of travel specials and deals.
I'm a one stop shop for all travel. Flights, cruises, tours, rental cars – I can book it all.
I'm your travel troubleshooter. If you run into the unexpected, call me. I'll get it sorted.
I'll come to you – I'm happy to meet you at a cafe or after hours to chat about your plans.
I'm a local business, not an anonymous website or company based halfway around the world.
If you have any travel plans, or if you'd like a quote, please get in touch – I'm happy to help!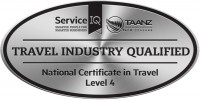 EmmaFarrell