MOB:
+64 22 197 8626
linda.lynn@nztravelbrokers.co.nz
Join My Newsletter


Having previously worked for airline, retail, wholesale and corporate travel organizations in New Zealand and the USA I bring 20+ years of travel consulting expertise to my broker business.
My extensive industry knowledge, global travel experiences and innate passion for travel enable me to offer sound advice and tailor-made solutions as a 'trusted advisor'.  I work closely with my clients to plan leisure, corporate, special interest and group travel adventures.  Whether you wish to travel within New Zealand or to any international destination I will be delighted to work with you – please don't hesitate to call me!
"...In particular, I couldn't be happier with the professional expertise and responsiveness of Linda Lynn. She has demonstrated her travel knowledge and willingness to fulfill the traveler's specific needs. Her follow through and confirmation skills are very much appreciated and I have confidence that my managers will experience business trips which are seamless and stress-free."

Happy Client
Hi Linda

Thank you so much for all your brilliant and meticulous organization of what was a fabulous trip to Europe. We are so pleased we used your services ... it made such a difference in that it took all the hassle out of planning and touring.

The highlight was the Croisi cruise on the Rhine, Main and Danube... Amsterdam to Strasbourg and then on to Budapest... the fit-out of the ship, the food, staff and side trips were high quality and value for money. The fact that the ship only has 100 passengers also made a critical difference in our enjoyment.

Thanks again and hope to catch up soon.


Peter Tootell and Carolyn Gattsche
"I want to put in a special word for Linda Lynn. She is absolutely dynamo! She's very fast and efficient at meeting expectations, relieves any need for follow-up or concern, is extremely knowledgeable about the airlines, hotels and how their systems work and any idiosyncrasies going on at a given time. Linda is exceedingly friendly and a joy to engage with... I have learned so much from her, not only about how things work and how to navigate in the travel industry, but also about some wonderful locations to visit. THANKS to Linda for ALWAYS providing support that is in the top of her league."

Happy Traveller
"I love working with Linda. She is so helpful and knowledgeable that it makes my job so much easier. I feel confident that when Linda makes my reservations they will be the best option and best cost. Thanks for having her on the team."

Happy Traveller
"Linda Lynn is the only agent I talk to. She is phenomenal in every way. She goes out of her way to help me and does so with excellence. Love working with Linda - she is always helpful and a great person to work with."

Happy Traveller
"I work with Linda - she knows Joan's style and travel needs - helps having someone be there for us consistently."

Happy Traveller
Linda Lynn is the best!

Happy Traveller
I have access to a huge range of travel specials and deals.
I'm a one stop shop for all travel. Flights, cruises, tours, rental cars – I can book it all.
I'm your travel troubleshooter. If you run into the unexpected, call me. I'll get it sorted.
I'll come to you – I'm happy to meet you at a cafe or after hours to chat about your plans.
I'm a local business, not an anonymous website or company based halfway around the world.
If you have any travel plans, or if you'd like a quote, please get in touch – I'm happy to help!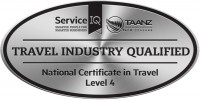 LindaLynn