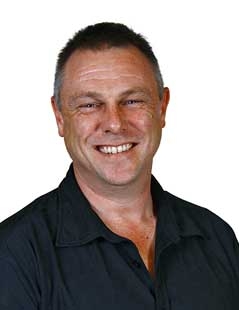 PH:
+64 3 489 8006
MOB:
+64 274 499 633
blair.arthur@nztravelbrokers.co.nz
Join My Newsletter


One of the "old" faces of the travel scene in Mosgiel, Blair has close to 30 years travel industry experience under his belt and ready to serve the people of Mosgiel and the surrounding area.
He has a very active and loyal customer base for both leisure and corporate travellers which stretches the length and width of NZ (and overseas) so his vehicle can often be seen on the road especially State Highway 87 heading towards Central Otago.
Having grown up just out of Alexandra in the Ida Valley, Blair has an affinity with the rural community and is often looking for any opportunity to get outdoors to go hunting or fishing. He loves the laid back "City Living Country Style" of the Mosgiel community and has been a member of the local Business Association for a number of years, the last three as Chairman.
Blair has travelled to numerous Islands in the Pacific, extensively in Australia, Singapore, and has also experienced life on board a cruise ship sailing round NZ… Since 2008 he has what he says "being his own boss" taking over a Travel Office in Mosgiel and since 2012 has been a valued member of the NZ Travel Brokers Family, often making an appearance at our annual Awards Ceremony at conference.
To Blair, travel is in his veins and he prides himself on giving expert advice and quality customer service. He believes that understanding what your client wants to obtain from their holiday is number one. Delivering a package that exceeds their expectations is the goal.
Preferred Suppliers Broker of the Year – 2nd Place (2019)
NZ Travel Brokers Challengers Group (2015, 2016)
NZ Travel Brokers Top 10 – Placed 10th (2013)
Preferred Suppliers Broker of the Year – Placed 1st (2014, 2015, 2016)
Recipient NZ Travel Brokers High Achievers Award (2014)
Top Achiever for GO Holidays Sales 2013
I have access to a huge range of travel specials and deals.
I'm a one stop shop for all travel. Flights, cruises, tours, rental cars – I can book it all.
I'm your travel troubleshooter. If you run into the unexpected, call me. I'll get it sorted.
I'll come to you – I'm happy to meet you at a cafe or after hours to chat about your plans.
I'm a local business, not an anonymous website or company based halfway around the world.
If you have any travel plans, or if you'd like a quote, please get in touch – I'm happy to help!